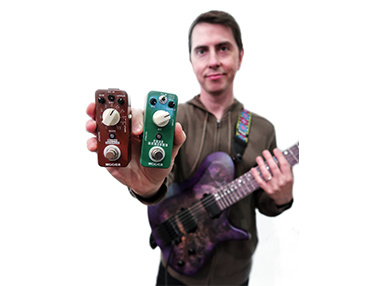 Thomas "McRocklin" started playing guitar at the age of 4. He got his first big break when he was asked to open for Ozzy Osbourne in his hometown of Newcastle, when he was just 8 years old.
Thomas went on to feature in Steve Vai's music video "The Audience is Listening" and they became lifelong friends.
He then signed to Interscope Records as the youngest ever artist to be on their label at the time, and the young teenage band 'Bad4Good' was formed around him.
The band went on to play many gigs around California and they toured with Joe Satriani in the US and Canada.
After returning to the UK Thomas released his own solo album '91 - 95'. He then got involved in the production side of music which later lead to becoming a mastering engineer. This also fueled his interest in electronic genres of music.
More than 20 years later, Thomas is back on the guitar scene and has quickly gathered a large following on social media, and is excited to be collaborating with Tim Hutchinson forming the band 'McRocklin & Hutch' where they blend cutting edge technology with Retro Synthwave and melodic shred guitar.

https://www.instagram.com/mcrocklin/
https://www.facebook.com/mcrocklin/
https://www.youtube.com/mcrocklin
https://twitter.com/thomasmcrocklin